31 January 2023
NUMIDIA BV ENTERS STRATEGIC PARTNERSHIP WITH DMK FOR THE DISTRIBUTION AND PRODUCTION OF INSTANT FAT FILLED POWDERS UNDER EXISTING BRAND NAMES NUMIGOLD AND AMINA.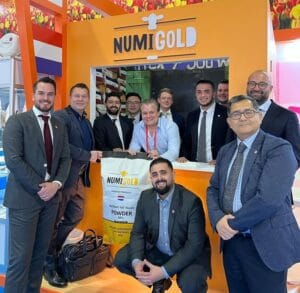 ROERMOND- From April 2023, NUMIDIA BV will officially start the distribution of the Instant Fat Filled powders, produced by DMK at their Zeven factory in Germany. The product will be distributed under the NUMIDIA BV brand names: NUMIGOLD and AMINA.
DMK is Germany's largest dairy cooperative, with many years of experience in processing dairy. The state-of-the-art facilities of DMK Deutsches Milchkontor GmbH make it the perfect manufacturing partner for the strong customer base of NUMIDIA's NUMIGOLD and AMINA brands and warrants the development of the right quality. "DMK is active in the fat based and fat filled market for many years. We are very proud about this new cooperation and are looking forward for cooperation in many different activities throughout the portfolio", stated Sierk Weisser – Krepetin, Commercial Director BU Industry.
Ever since the launch of the NUMIGOLD brand in 2018, the brand has had exceptional growth all around the world. This growth accelerated with the introduction of AMINA in 2020. These brands have quickly become the industry standard in terms of quality and consistency in key markets everywhere.
For more information:
Media Contact:
Han van Hagen
SOURCE: NUMIDIA BV
Related Links
www.numidiadairy.com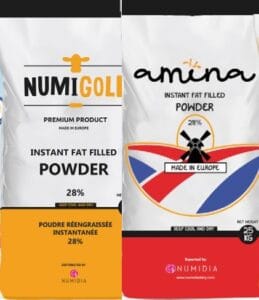 www.dmk.de
www.dpsupply.com