NUMIDIA AND DMK EXTEND THEIR STRATEGIC PARTNERSHIP TO A LONG-TERM COLLABORATION 🤝
After a successful start of the partnership in April 2023 between NUMIDIA BV and DMK Deutsches Milchkontor GmbH for the distribution and production of Instant Fat Filled Powders under brand names NUMIGOLD and AMINA, both parties signed an agreement on 8 November 2023 to elevate the partnership to a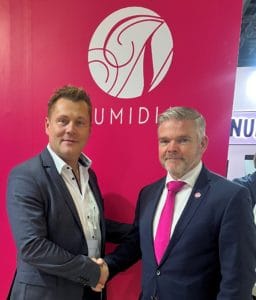 long-term collaboration of the existing Instant Fat Filled Powders distribution, and expand the product portfolio with Whey Powders for the Food and Feed market, Fat Filled Whey Powders as well as Whey Permeates.
DMK is Germany's largest dairy cooperative, with many years of experience in processing #dairy. The state-of-the-art facilities of DMK are the perfect manufacturing partner for the strong customer base of NUMIDIA's NUMIGOLD and AMINA brands.
Sierk Weisser-Krepetin (Commercial Director Business Unit Industry, DMK) and Han van Hagen (CEO NUMIDIA BV) both indicated to be proud of the success of their cooperation.
Related Links
www.numidiadairy.com
www.dmk.de
www.dpsupply.com