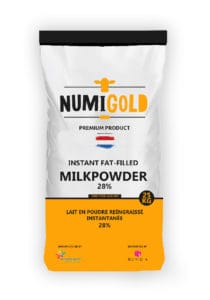 HERTEN- From July this year, FrieslandCampina will start the production of their own Instant Fat Filled Powder in their factory in Leeuwarden, the Netherlands. NUMIDIA BV has been granted the worldwide license to distribute the Instant Fat Filled Powder under their brand NUMIGOLD.
The last years the market for Instant Fat Filled Powder has become increasingly relevant. With the launch of NUMIGOLD, the strategic decision has been made by FrieslandCampina to actively participate in this growing market.
NUMIDIA BV will be using their in-house knowledge of the market, and their worldwide distribution network, to successfully launch the product into the marketplace.
Instant Fat Filled Powder has become a cost-efficient alternative for customers, having replaced the traditional Full Cream Milk Powder in many countries and markets. The product is suitable for applications such as yoghurt-making (lait caillé), bakery and dairy drinks. Offering customers high proteins, vitamins and a full milky flavor.
For more information contact us at info@numidia.nl ,call us on +31475 729 536