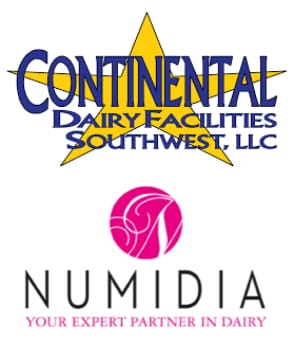 Continental Dairies Facilities Southwest LLC (CDFSW) and Numidia have reached a strategic agreement whereby Numidia will market, sell and supply all milk powder produced at the new CDFSW facility in Littlefield, Texas.
The plant produces low, medium, and high heat Nonfat Milk Powder, Skimmed Milk Powder and Buttermilk powder. Custom formulations are available as well.
Both companies have a focus on delivering quality dairy products to their customers in the world market. Continental's strengths are in the production of high quality milk powders whereas Numidia has a strong position and expertise in the global dairy markets. This cooperation fits perfectly in both companies' ambition to play a leading role in the global dairy supply chain.
We look forward to the beginning of the partnership of these two companies with a Texas presence (Numidia in Dallas and the CDFSW plant in Littlefield), and the alignment of vision and values that promises a rewarding future for both companies.
CDFSW and Numidia are each committed to reducing the carbon footprint of their activities.

About Continental Dairy Facilities Southwest LLC
Continental Dairy Facilities Southwest LLC is a dairy processing plant located in Littlefield, Texas in partnership with Select Milk Producers, the 7th largest dairy co-op in the United States, made up of more than 99 dairy farmers from Michigan, Indiana, Ohio, Texas and New Mexico.

About Numidia

Numidia is a company specializing in the global distribution, sales and marketing of dairy products and related ingredients and has business partners in more than 100 countries. The company is based in Herten (The Netherlands), Dallas (TX, USA), Singapore, Montevideo (Uruguay) and Melbourne (Australia). With solid experience in dairy, we have built a strong network around the globe, enabling us to provide all our partners valuable market information, contract reliability and technical knowledge.
More information:
cdfswllc.com & numidiadairy.com